Field Marshall/No Partial re-released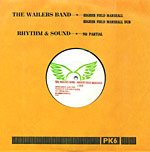 Peter's 1975 instrumental recordings Field Marshall and No Partial have been re-pressed on the UK PK label in limited quantities on a 10" single. The original pressing was available in very small amounts. These two instrumental recordings feature the Wailers band and Peter on melodica, and are considered by many to be two of the finest Peter instrumental recordings.
You can find out more information and order copies (while stocks last) from Reggae Revive.
You can also purchase copies from several other outlets, such as specialized reggae record shops. To listen to a sample of the tune, check this page.
---
Over the past few months there have been a number of fantastic Peter Tosh releases, that are quite the collector's treat!
"Super hits" released

The first release comes courtesy of Columbia/Legacy in the form of another Peter Tosh greatest hits compilation, entitled "Super Hits", this was released on April 17th. The disc includes tracks from Peter's first two solo albums "Legalize It" and "Equal Rights" with no extras. The price for this disc will run under $10, making it a great starting point for people new to Peter Tosh's music.
Tracklisting: Legalize It, Downpressor Man, Stepping Razor, Equal Rights, Whatcha Gonna Do, Get Up Stand Up, Why Must I Cry?, African, Brand New Second Hand, Burial
It is a shame that the album could not be stretched to 12 tracks to include the beautifully stunning Jah Guide or Igziabeher (Let Jah Be Praised), both in my opinion are amongst Peter's best ever recordings with Igziabeher being possibly the most underrated song in Peter's catalogue.
---
"Live and dangerous: Boston 1976" released

The second album (once again on the Columbia/Legacy label) is a live concert album from a show Peter and his Word, Sound and Power band performed in 1976. The album was released on August 6th entitled "Live & Dangerous: Boston 1976". The 11 track disc was originally recorded on October 24th, 1976 at the Warner Theater in Boston, Massachusetts, USA. This album will be welcomed with open arms by fans from all over the world. This album is definitely a treat for fans and collectors alike. Many fans believe that Peter's 1976 Legalize It tour with a rootsy feel produced some of Peter's greatest ever performances.
Tracklisting: Instrumental Intro, Igziabeher (Let Jah Be Praised), 400 Years, No Sympathy, Burial, Mark Of The Beast, Babylon Queendom, Why Must I Cry?, Whatcha Gonna Do, Stepping Razor, Ketchy Shuby.
---
"I am that I am" released

The third Peter Tosh album that was released in the month of August was one of the most anticipated Peter albums of all time: "I Am That I Am", a selection of acoustic cuts and interview clips. JAD released the album on August 13th, a week after the live set is released. The album contains 12 interview segments as well as 13 acoustic songs. The interview segments collect material from interviews conducted in Chicago 1977, Oregon 1977 and Vienna 1980 amongst others. The interview clips manage to convey both Peter's militant and sensitive sides and give the world a chance to hear Peter talk intimately and openly on a number of topics such as his beating after the One Love Peace Concert, his start in music, teaching Bob how to play and his future in Africa. One of the real highlights of the disc is Peter's version of Richie Haven's "Handsome Johnny", which was recorded by Peter in late 1976 for Dermott Hussey's radio show during an ad break, marching to the Angolan war with an M16 in his hand: just one of the many gems on this unmissable collection.
This is one of the years most anticipated albums after the Catch A Fire deluxe set and is sure to be a big hit, a great pity that Island/Universal do not have the foresight to do the same type of project with Bob, with countless hours of unreleased acoustic tracks in the vaults and an extensive re-mastered series taking place now would have been the perfect opportunity to give the world what they have been crying out for: an unplugged Bob album. Thumbs up must be given to JAD for the way they have so far handled the most recent Tosh releases. Both of the aforementioned albums will be reviewed in full next time around.
Tracklisting: I Am That I Am, Interview 1, Fire Fire, Interview 2, Pick Myself Up, Interview 3, Can't You See Instrumental, Stop That Train, Interview 4, Fools Die, Interview 5, Jah Guide, Interview 6, Can't You See, Interview 7, Handsome Johnny, Interview 8, Instrumental, Interview 9, Don't Wanna Get Busted, Interview 10, Legalize It, Interview 11, Get Up Stand Up, Interview 12
---
"Honorary Citizen" re-released

Finally, Peter's 3 CD "Honorary Citizen" boxset that was originally released in 1997 will be re-released on August 28th, however this time the 3 CDs will be issued in a more compact cube box shape, following along the lines of the recently re-issued Songs of Freedom set.
---
Peter's World Music Festival 1982 concert to be released

The third and final installment in the trilogy of JADs Tosh productions is set to be released this winter. Peter's legendary World Music Festival concert that took place on November 27, 1982 will be the third live concert release from JAD records, following on from the One Love Peace Concer that was issued last year and the I Am That I Am acoustic album that was issued last month. The show took place in the early hours of the morning at the Bob Marley Performing Arts Center in MoBay, Peter delivers a number of early morning livatribes mixed in with an enthusiastic performance.
---
Legalize It and Equal Rights re-mastered

The re-mastered version of Legalize It from Sony/Columbia contains an 8 page booklet detailing the recording sessions of the Legalize It album. Roger Steffens had the good fortune of interviewing the records producer Lee Jaffe for the liner notes. Lee gives his thoughts and insights behind each track and talks of the session players that played on the album and even the studio where each track was recorded at. A fascinating break down of how the Legalize It album came to be. The booklet also features a number of fascinating photos. The re-mastered album itself features one bonus track, the rhythm track of Ketchy Shuby, it is a shame that more bonus tracks were not included on the album whether it had been in the form of unreleased tracks or more dubs. The re-mastered album sounds clearer than the original release with the drums on the title track being more harsher and to the forefront than on the original recording.
Tracklisting: Legalize It, Burial, Whatcha Gonna Do, No Sympathy, Why Must I Cry?, Igziabeher "Let Jah Be Praised", Ketchy Shuby, Till Your Well Runs Dry, Brand New Second Hand, bonus track: Ketchy Shuby Instrumental

Whilst Sony/Columbia's re-mastered Equal Rights album features two additional bonus tracks: live versions of Pick Myself Up and African recorded from Peter's 1982 tour. It is great to hear the inclusion of these two live renditions, the only slight niggle I have is that no where in the liner notes does it state where the songs were recorded to, just giving us the date 1982. Once again the accompanying booklet is 8 pages long and feature yet more great unseen pictures of Peter including the most amazing photo taken by Lee Jaffe of Peter holding a gun. The liner notes once again breaks down the recording of the album with the insights this time being supplied by Peter's manager at the time Herbie Miller and sound engineer Karl Pittserson.
Tracklisting: Get Up Stand Up, Downpressor Man, I Am That I Am, Stepping Razor, Equal Rights, African, Jah Guide, Apartheid, bonus tracks: Pick Myself Up (live), African (live)
Both releases offer something new in the shape of bonus tracks and informative liner notes, the only downside possibly being the lack of additional material.
---
Peter Tosh Memorial Park Update
With a large royality cheque due to be deposited with the Peter Tosh Estate following the recent settlement of the court action regarding the status of the original Tuff Gong Records Ltd, it is hoped that work on the Peter Tosh Memorial Park in Blemont, Westmoreland, Jamaica, which has come to a standstill of late, may now be completed. In a recent statement, Peter's son Dave, declared, "Work should resume on the park soon, because as a family we are totally committed to erecting a suitable monument to my father's memory. We fully recognise the greatness of our dad and we want to see his memory preserved. My father was a man who sang about injustice and was always seeking to strengthen the opressed. Annual Peter Tosh Tribute Concert Worrell Kin, the chairman of King of Kings Promotions recently sat down and spoke with the Weekly Gleaner about the annual Peter Tosh Tribute Concert that is organised by the King of Kings Promotions. "Peter Tosh is arguably Jamaica's most oustanding singer/songerwriter, but if we are no careful officialdom will continue to ignore his contribution to the growth and development of music. I don't want that to happen, and that is why I am totally commitedd to staging a tribute concert ever year".
Forgotten Contribution Issued by Jamaica's Finance Minister Roy Sweetland recently brought to my attention a publication released by the Finance Minister of Jamaica, Dr. Hon.Omar Davies. The 24 page publication entitled "Reggae and Our National Identity: The Forgotten Contribution Of Peter Tosh" examines the impact and influence of the singer's music on society as well as his views on international affairs and the issues of the firebrand vocalist raised in his most provocative songs. The "Forgotten Contribution" will eventually be used as a part of the curriculum of the Reggae Studies Unit which has been in operation since 1993. The department's primary goal is to research the history of Jamaican music and it's personalities. Omar Davies is a long time admirer of Peter and a noted collector.
---
The Universal Riddim Of Per Tjernberg
There is a brand new album from the fantastic Swedish record company Rub-A-Dub Records, that is sure to be a treasured item among dub fans and Wailers fans alike. The album, "Universal Riddim," from Per Tjernberg is a culmination of sounds from around the globe, based around the backing of dub music. The album features the following 11 tracks:
Tracklisting: Frog Song, Badder Than 'Em, Sweeter Than 'Em, Garden Of Spirits, Thaxim Oud, Word, Sound And Power, Fallin' Up, Word, Sound And Power (Reprise: The Little People), Sacred Service Bali Farewell/Dreamscape, Scratchaholics Interlude, Universal Riddim
The album is of interest as Per Tjernberg has creatively incorporated Peter's own spoken words on both "Word, Sound And Power" and "Word, Sound And Power (Reprise: The Little People)". Per was fortunate to have interviewed Peter in Stockholm, Sweden 1981 after that evenings concert and some brief clips from the interview have been used on the tracks.
---
Mystery Babylon
On May 8th, Putumayo Records, one of the leaders in world music, released a collection featuring some of the greatest Jamaican artists, the album is to be titled "Jamaica" and includes Peter's "Mystery Babylon" an alternate take of "Babylon Queendom", also included on the album are the likes of Toots & The Maytals, Culture, Ras Michael, Joe Higgs, Jimmy Cliff, Israel Vibration and many other legends from Jamaican music.
---
No Sympathy
A short film entitled Temptation was released on October 9th last year and featured Peter's "No Sympathy". Directed by Richard Mitrotz. The film tells the story of Jesus being tempted to give up his faith in favour of what looks to be an easier life. However, he stays strong and is better for it in the end.